Online Company Stores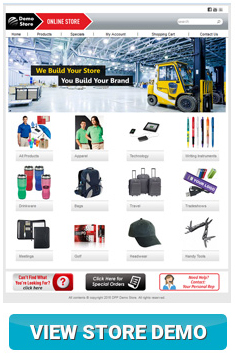 Our
Online Company Stores
provide a solution to successfully manage your brand by permitting your team to acquire pre-logoed merchandise quickly. You're advertising materials (leaflets, organizers, and so forth) and all promotional items in the program will be a consistent representation of your brand. Say goodbye to the days of unorganized advertising ordering and hello to a consolidated pre-approved purchasing program. This not only saves employees and customers time, but also allows a huge savings on marketing dollars. From start to finish, our advertising experts create a uniform plan of action by executing your online company stores through product selection, processing your orders, fulfillment, tracking and reporting information.
If you need promotional items for your online company stores, DPP Creative has the solution. We offer promotional items with your logo imprinted on them. These will help with your company's brand recognition and are also perfect for employee incentive programs, employee rewards programs or employee recognition programs.
You can both motivate and reward your employees with an employee rewards program. Through the use of logoed merchandise, you can set up a one time recognition program or you can set up an ongoing employee incentive program. This is another great way getting one of our online company stores can help. We can help you get all of your promotional items online and you can reward your employees with budgets to spend on these products.
One of the best ways to build brand recognition is through logo apparel. We utilize only top quality name brand apparel from Reebok, Nike, Far West and more. All of our apparel brands are complimentary of each other to draw the most focus and marketing attention for your apparel program. We sell logo'd apparel across 6 main apparel categories including: T-Shirts, Polos, Woven Shirts, Knits/Fleece, Jackets and Accessories.
All of our apparel imprinting is done in-house on state-of-the-art equipment. This ensures flawless reproduction of your logo to product apparel you can be proud of. We understand that your brand is your business and your image, and we stand behind every product we offer.
When you get one of our online company stores, you will have an online platform to execute your apparel program. You can show off your logo merchandise to your employees and the public. You can set up product grids to facility ordering multiple sizes at once, accept multiple billing methods, control what products each employee see based on levels and much more.