Safety Programs
Safety in the workplace continues to be a major objective of employers because of both the tangible costs of on-the-job accidents or fatalities and the human or intangible factors. Implementing a Select-A-Gift Safety Program can assist in not only reducing the overall accident rate but also helping to solidify a safety culture in the workplace.
Benefits of Safety Programs
The total cost of workplace injuries and fatalities cost American companies about $155 billion (US) every year. These costs can be cut with a successful safety initiative and it's no wonder that more companies decide to implement a workplace safety program each year. Workplace safety programs reduce work-related injury and illness, making companies a safer place to work, visit, and volunteer. Of the surveyed companies who currently incorporate a safety program into their business plan: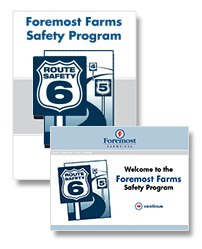 77% believed that incentive programs were effective
55% experienced a reduction in workers' compensation costs
73% said absenteeism had decreased
96% said safety awareness was increased
84% saw a reduction in accidents
70% said the programs were cost effective
A few goals that safety programs can achieve include:
Improve safe work performance
Lower healthcare and workers comp costs
Provide access to more bid opportunities
Improve ability to keep projects on schedule
Setting up a Safety Program
Decide whether the program will be paper-based, online-based or both
Establish a budget and the monetary value to be awarded for each goal
Plan what safety goals you would like your program to reward for
Schedule a kickoff date for the program
Communicate your program's goals and details to participants
Communicating program information to the individuals eligible for participation is an important aspect of setting up a safety program. Participants must understand how the program works and what goals must be achieved to earn rewards. An incentive program must be deemed worthwhile, fair and accessible by its participants in order to become an effective addition to an organization.